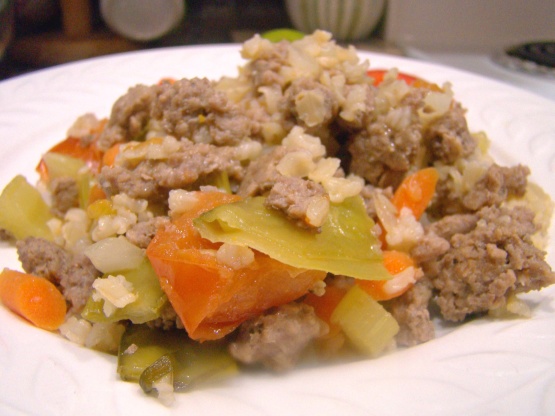 You know I don't love cooking.
It's not the process of it really. It's the process of it while trying to manage 4 kids. And then all the clean-up. Yikes.
So I try to keep it simple and cook earlier in the day. I meal-plan a month at a time so I don't have to use my mental energy every day to think of something.
But last night, it was supposed to be Turkey Tacos…again, and I just needed something fresh. I had a pound of ground turkey to use for dinner anyway, so I decided to try a new recipe. I found one that looked like a good base and then modified it to fit our family's preferences and what ingredients I had on hand. It turned out so TASTY and I'm excited to add this one to the line-up. There isn't a bad ingredient in the whole thing; so guilt-free eating!
I like adding my favorite recipes to the blog so I have a quick place to reference my go-tos. I hope you try it and love it.
1 lb ground turkey
1 teaspoon fennel seed (optional)
1 tsp thyme
1⁄8–1⁄4teaspoon Seasoned Salt
1/2 tsp pepper
4 cups cooked rice or quinoa
2 stalks celery, diced
2 carrots, diced
1 green pepper, chopped (optional, I left out because my kids would complain!)
1 small onion, diced
1-2 tsp minced garlic
1.5 cups chicken broth (I add Better Than Bouillon to water)
vegetable or grapeseed oil
DIRECTIONS
Sprinkle the seasoned salt, thyme and (if using) fennel seed over the ground turkey. Mix well.
Add a touch of oil to the pan and add turkey mixture. Over medium-high heat cook and stir turkey until browned; drain well. While the turkey is draining add the vegetables to the hot pan and saute for about 5 minutes. Add the turkey back into the pan and mix. Add chicken broth.
When broth comes to a boil reduce heat, cover and simmer for approx 20-30 minutes, stirring occasionally until liquid is absorbed.
Cook desired amount of rice or quinoa.
Pour desired amount of turkey-veggie mix over rice.